Become A Formic Automation Champion!
Drive Automation Adoption in the USA With The Formic Partner Program
And Get Paid For It.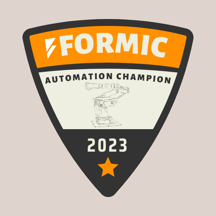 SMB and Mid-Market industrial businesses in the United States are battling a massive labor shortage. There just aren't enough people to do the work. These businesses know they need to automate their production process to continue delivering quality products on time - they just don't know where to start.
Formic specifies, builds, deploys and provides 24/7 maintenance for automated case packing, palletizing, machine tending, and robotic welding solutions for $0. Yes, you read that correctly. With our Pay-for-Productivity program, the customer only pays for the hours the equipment is running and producing for them. If the system goes offline or stops working, they pay nothing.
Formic provides the best way for manufacturers to bring automation into their facilities and production processes. Our goal is to help every US manufacturer begin their automation journey - and we'd love you join this mission to strengthen the backbone of our economy.
If you are currently working with SMB and Mid-Market industrial businesses in the US and want to help them scale and grow their production processes with automation, sign up today to become a Formic Automation Champion. This partner program offers:
Referral and multi-year cash incentives for introductions to qualifying businesses

Assigned sales team partner for your geographic region

Automation education sessions and marketing material

Access to private partner Slack group

Formic Automation Champion partner badge for your email signature and LinkedIn profile



Become a Formic Automation Champion today!